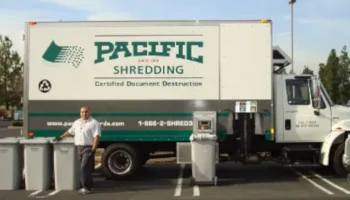 I quickly searched the HowStuffWorks webpage to see if they knew how a mobile shredding truck operated. They didn't, and their number two result was, "5 Things You Didn't Know About Tacos." Well, I already know how to shred a taco, especially when I'm starved, but what about those shredding trucks? Well, I'm about to tell you.
A Truck That Shreds Paper
Shredding companies can shred your sensitive documents at your business location and the way they do that is by having a shredding truck arrive at your location at a specified time. The truck is equipped with high-efficiency industrial shredders and a holding space for the resulting shredded material to be stored until it is securely transported to the shredding facility or recycling center.
The Shred Process
The staff of the shredding company will drive to your location, collect your sensitive documents or hard drives from the shredding containers that they provide. The material is securely transported in a container outside to the shred truck. So that the documents are not unnecessarily handled and risk becoming loose, an arm takes the container and empties the material into the truck.
As the shredding process takes place, your company staff can observe the process taking place to ensure they have been securely destroyed.
Shredding Methods
Pierce-and-Tear: These shredders use several rotating blades to punch holes in the documents before it is ripped into small pieces. This process randomly tears rather than cuts the paper, making the destruction more secure. The shredder can process up to 9000 pounds of material per hour.
Single-Shaft Rotary Grinder Shredding: Just as the title says, single-shaft grinders hydraulically press the paper against a rotating cutter shaft. The shaft pushes the paper against a bed knife as it rotates, shearing it into uniform-sized pieces. The shredder can process up to 30,000 pounds of material per hour.
Why Mobile Shredding
Home or office shredders sometimes can't accomplish the best level of shredding to destroy your documents at a properly secure level. Your personal-sized shredders commonly strip-cut or cross-cut, but these are slow and don't offer the best level of security. Also in comparison, by outsourcing your shredding, you won't be responsible for the repair or replacement of a shredder. Shredding at your business is also flexible to fit your schedule and can be planned as frequently as necessary.
If your business is looking to improve its level of secure shredding by outsourcing or finding a company that offers on-site shredding with a shredding truck, consider on-site, mobile shredding.
Pacific Shredding offers several NAID AAA Certified shredding options in Fresno, Stockton, Sacramento, Modesto, and Napa and Solano Counties. We don't shred tacos during work hours, but you can as you watch our shredding trucks destroy your documents and hard drives right before your eyes!