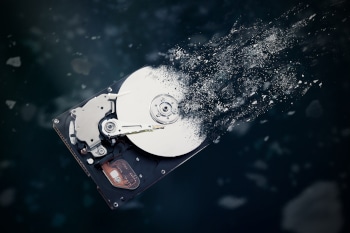 Your business creates data, and it must be stored somewhere. But what are you supposed to do with your data storage devices when they expire? In this blog, we offer five reasons to use a hard drive shredding service.
1. Privacy Protection
Tossing your old hard drives in a dumpster or donating or selling them puts your customers' and employees' information at risk. A recent study released by the National Association for Information Destruction (NAID) found that 40 percent of used electronic devices sold on the secondhand market contained personally identifiable information (PII) and protected health information (PHI). Usernames, passwords, credit card data, tax details, and contact information was found on used hard drives, mobile phones, and tablets analyzed in the study. Most importantly, the process used to recover data on more than 250 devices required no advanced forensic training. A hard drive shredding service ensures personally identifiable information (PII) is destroyed is a secure manner. An industrial-grade hard drive shredder pulverizes your hard drives into miniscule particles, rendering them unreadable so sensitive data can't be exposed.
2. Responsible Disposal of Electronic Waste
The volume of global electronic waste continues to grow, posing a serious threat to the health of our planet. Hard drives and other digital devices contain toxic materials that pollute the environment. By partnering with an environmentally-responsible hard drive shredding company, you know your electronic waste will be handled properly. After your hard drive shredding provider shreds your digital devices, an authorized recycling partner separates the metals, plastics, and other materials and recycles them according to state and federal environmental standards.
3. Compliance
State and federal laws such as HIPAA, FACTA, and GLB require businesses that collect PII and PHI to prevent unauthorized access to that information. Failure to dispose of sensitive data securely can result in severe fines and penalties. A hard drive shredding service can help your business comply with state and federal regulations.
4. Peace of Mind
Business data breaches continue to rise, so you may constantly worry about the safety of your data. A hard drive shredding service helps you relax knowing your confidential data is completely safe. You can witness the destruction of your media, and afterwards, you are provided with a Certificate of Destruction.
Pacific Shredding provides hard drive shredding services for residents and businesses throughout Fresno, Stockton, Sacramento, Modesto, and Napa and Solano Counties.