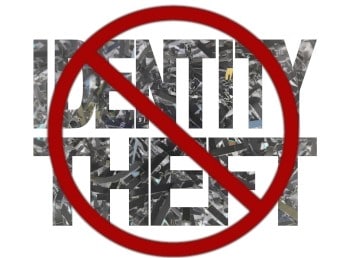 When you open your wallet during the holidays, you become more vulnerable to identity theft. That's why December is National Identity Theft Prevention and Awareness Month. In this blog, we offer 5 tips on how to avoid identity theft during the holiday season.
Stay Aware When Shopping Online
Experian estimates that 43% of holiday identity theft occurs online. Make sure your home WiFi network is protected with a firewall and a strong password. Use encryption on your internet router. Only visit sites that begin with https://, which indicates they use secure sockets layer (SSL) technology, encrypting all the information that website sends and receives.
Using a public WiFi network can make it easier for cybercriminals to access your bank account and credit card information. Use your mobile data connection instead or wait until you get home to connect to the internet.
Watch Out for Porch Pirates
More packages are shipped and received in December than any other month. As a result, mail and package theft is rampant during the holiday season. Set up email alerts with your shipping provider so you know when your packages will arrive. Know your delivery schedule in advance. If you can't be at home when packages are delivered, instruct your shipping provider reschedule the delivery for a later date or leave the packages with a neighbor.
Be Careful When Paying at the Pump
Gas pump and ATM skimmers are small, hard-to-spot devices that cybercriminals install on gas station payment terminals and ATMs. You swipe your card and your credit card information is sent to a fraudster. To avoid having your credit card information "skimmed," pay inside the gas station or use the ATM inside your bank to withdraw cash from your checking account beforehand.
Use a Residential Shredding Service
Holiday identity theft crimes aren't only high tech. Thieves rummage through curbside trash and recycling bins looking for documents with personal, medical, or financial data. If you're not careful, your discarded can be stolen, misused, and sold to other criminals. A residential shredding service helps keep your confidential personal information out of the wrong hands. A mobile shredding vehicle comes to your home and a security-screened technician destroys your documents while you watch.
Watch Your Credit
It's important to watch your credit activity during the holiday season. Check your bank and credit card statements for fraudulent transactions. You're entitled to one free credit report every year from each of the three major credit reporting agencies. If you haven't requested your free annual credit report this year, do so before Jan 1st.
For more identity theft prevention tips, please call us at 800-685-9034 or complete the form on this page.
Pacific Shredding provides NAID AAA Certified shredding services for residents and businesses throughout Fresno, Stockton, Sacramento, Modesto, and Napa and Solano Counties.