You're One Among Millions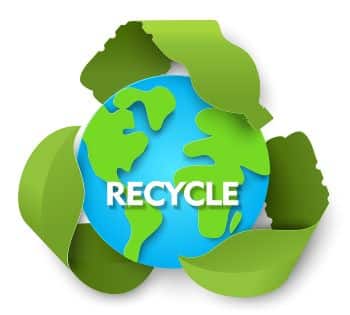 If you take part in America Recycles Day on November 15th, you'll be joining millions of Americans who are raising awareness about recycling and purchasing recycled products.
Last year, America Recycles Day focused on the global carbon emissions that are created when natural resources are taken from the Earth and made into usable products. By reducing, reusing, and recycling, we can decrease overall waste and the greenhouse gases associated with it while protecting our communities and our environment.
This year, let's celebrate the efforts to manage our resources responsibly and creatively and recommit to building a brighter and more sustainable future for all.
The Importance of Shredding and Recycling
Shredding your documents is a means of fulfilling your legal obligations to protect the private information of your business, staff, and clients. By following a shred-everything philosophy, you can be confident that you haven't overlooked any sensitive information. You may have even considered some of that information to be harmless. By shredding everything with a responsible, local shredding provider, you can ensure that all of your shredded paper will be recycled.
Over the past two years, COVID-19 impacted Americans' attitude toward recycling. Although many residents recycled more, statistics show that we are still less concerned with recycling than we were before the pandemic. America Recycles Day could encourage us to turn this around and get better at recycling again.
Will My Shredded Material Be Secure?
When you drop whole documents in a recycling container for collection, you are leaving it open to theft anywhere along the way, from your curb to the pulp mill. Even if you use a shredding machine at home or in the office, that shredded paper can be recovered and reconstructed by dumpster-diving thieves. Also, many waste management services prohibit shredded paper from being placed in the recycling bin because the consumer recycling stream is not designed to process such small pieces of paper.
But don't worry: You can recycle and keep your information secure. If you work with a local, NAID AAA Certified shredding company that recycles 100% of their shredded paper, it's a win-win! They can shred your documents beyond recognition with their industrial shredding equipment and then ship the shredded paper directly to the recycling plant, which is set up to receive shredded paper. NAID AAA Certification ensures that your information is handled by background-screened, trained professionals within a secure chain of custody from the moment it's picked up.
Pacific Shredding has a positive impact on our environment by providing NAID AAA Certified, secure shredding services and recycling 100% of the paper we shred. Choose from a wide range of shredding and destruction services and options, all provided by our trustworthy and knowledgeable shredding experts. We can even provide you with a Certificate of Destruction for your records. For more information, give us a call at 800-685-9034 or complete the form on this page.