Hard Drive Shredding: 10% Discount on First Service
For a limited time, we're offering a 10% discount on your first mobile hard drive destruction order! It's the perfect time to make sure the data on all of your data storage devices are destroyed the right way!
Hard Drive Shredding for Secure Data Disposal
Are you wondering what to do with your old hard drives? Deleting the files on them isn't enough; there's still a digital footprint of confidential information left behind that can easily be compromised. So if your hard drives land in the trash, your business is at risk of identity theft or business fraud. The only way to make sure digital data is securely destroyed is with a hard drive shredding service.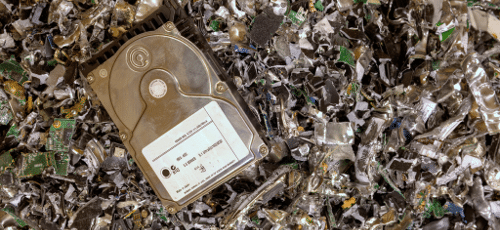 Your Hard Drive Shredding Solution
Pacific Shredding's mobile hard drive destruction service offers a secure and convenient method for securely destroying your digital data. We shred your hard drives on-site at your office so your confidential data never leaves your premises. You can watch the entire hard drive shredding process take place. And since you may have more than just hard drives that need to be destroyed, we also offer on-site media destruction for:
Backup Tapes
CDs, DVDs and Blu-Ray disks
Microfilm
Mobile devices
USB drives
Cell phones
Our Hard Drive Shredding Process
After you place an order, our mobile hard drive destruction vehicle arrives at your facility. Your hard drives and any other media that need to be destroyed are collected in secure containers by one of our screened, on-site media destruction technicians. Each hard drive is then run through the mobile shredder, reducing it to tiny particles in a matter of minutes. After your media inventory is destroyed, we give you a Certificate of Destruction showing:
The time and date of destruction
A description of the material destroyed
The name and signature of our shredding technician
This documentation can be used for internal audit purposes or as proof of legal compliance with privacy protection laws.
For more information about our mobile hard drive destruction services or to take advantage of 10% off of your hard drive shredding project, please contact us by phone or complete the form on this page.