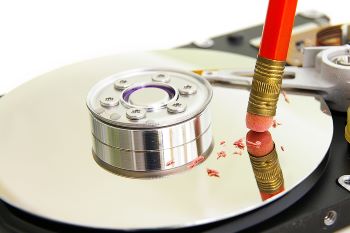 If you continue to read this, be forewarned that you're about to get a tune stuck in your head for the rest of the day.
In 1979, Video Killed the Radio Star was a one-hit-wonder about the increasing popularity of visual media as an accompaniment to music, and some would say it ultimately "killed" the radio industry. The song topped 16 international music charts and was a Top 40 song in the US. Ironically, in the Summer of 1981, Video Killed the Radio Star was the first video to be shown on the American cable channel, MTV.
Who Will Kill Who First?
Good or bad, "we can't rewind, we've gone too far," so instead, let's fast-forward 43 years to the present. While media seemed to have killed radio so long ago, it still has the capability to kill—only this time, it's your business at risk. The question is, will you completely destroy "the media" before it can destroy you?
Why Is Media Destruction So Important?
Disposal of electronic media is challenging, but necessary because it may be one of the highest-value assets belonging to your business, and therefore, it is often the target of information and identity thieves.
To remain compliant, the law says you must properly destroy electronic media that carries personally identifiable information (PII), and it is critical to protect other critical operational and financial information with the same vigilance. "Media" includes:
Hard drives including magnetic, rotational, and solid-state drives
Backup tapes
USB drives, also called "thumb" or "jump" drives
CDs, DVDs, and Blu-Rays
Microfilm and microfiche
X-rays
Credit and debit cards
What Are the Rules for Media Destruction?
A sure way to lose the battle is to dispose of electronic media without properly destroying the data stored on it. Information thieves don't just happen upon your discarded media; they intentionally come looking for it because it is so valuable.
State and federal laws were instituted for the purpose of protecting clients, customers, employees, and businesses against data thieves. Failure to comply could cost your business a major data breach resulting in fines or legal battles and ultimately could kill your business. These laws include:
What Else Should I Know?
Hard drives and other types of media still contain your information, even after you delete the files, and thieves with a little knowledge or special software can recover it.
Fax machines, printers, copiers, multifunction machines, and digital phones store easily-retrievable information.
Using data erasure or software overwrite or degaussing before sending media to be destroyed is beneficial, but the only way to be completely sure the information is irretrievable is to have the media destroyed according to state and federal laws.
Working with a local, reputable, hard drive and media destruction company that holds a NAID AAA Certification for hard drive and media destruction is the best way to completely destroy your sensitive electronic information.
Winning the Battle
As a generator and handler of PHI on electronic media, it is your responsibility to ensure that your electronics are properly disposed of. You can't just "blame it on VCR."
Pacific Shredding is the Central Valley's leader in hard drive shredding and media destruction. Our NAID AAA Certification means our process, facility, and personnel meet the highest security standards in the industry. We promptly destroy your hard drives and media, using a powerful industrial shredder to pulverize them into tiny pieces, making the information physically impossible to retrieve.
To inquire about our hard drive and media shredding service, call us at 800-685-9034 or complete the form on this page. Our experts are standing by to help you stay compliant!