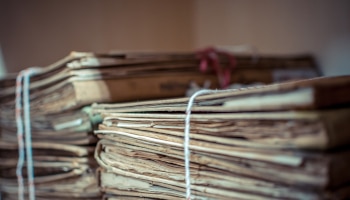 Keeping up with documents and data is hard enough. Adding unwanted, expired, and old information to the mix makes the job even more difficult. So, if paper shredding and hard drive shredding are low on your list of priorities, you may want to reconsider. In this blog, we highlight the top ten reasons to destroy your unwanted information.
1. Cost
The more documents you have, the more time and energy you have to spend managing them. Routine shredding of documents reduces your administrative costs. When your documents reach a final disposition date, you can safely destroy them.
2. Convenience
Destroying your unwanted information does not have to be a stressful chore. Whether you need scheduled shredding or a one-time purge, a qualified shredding company makes it easy to destroy your unwanted information. You can choose to have your documents shredded on-site or off-site at shredding plant.
3. Privacy
Identity theft and business fraud is at an all-time high. Destroying your information protects your personal and business data from falling into the wrong hands.
4. Compliance
Many companies must comply with state and federal privacy regulations, including the following laws:
Destroying your information helps your business avoid non-compliance fines and penalties.
5. Sustainability
Protecting your privacy is good for the planet. The right shredding provider recycles your paper waste after every destruction project.
6. Peace of Mind
In addition to protecting your customers and employees, an information destruction solution gives you peace of mind knowing your documents and data are securely destroyed in a cost-effective and efficient manner.
7. Clutter Reduction
Clutter kills productivity and dampens employee morale. Destroying your information reduces clutter for a more efficient and positive workplace.
8. Customer Trust
Your customers trust your company. Destroying your information shows you take their privacy seriously.
9. Brand Protection
One data breach can permanently damage your business' reputation. Destroying your information protects your brand.
10. Save Time
There are only so many hours in a day. Destroying your unwanted information reduces the volume of files you must sort through, manage, and find.
As you can see, destroying your unwanted documents is beneficial in more ways than one.
Pacific Shredding provides NAID AAA Certified shredding services for residents and businesses throughout Fresno, Stockton, Sacramento, Modesto, and Napa and Solano Counties.
For more information about our shredding services, please call us at 800-685-9034 or complete the form on this page.