Two Choices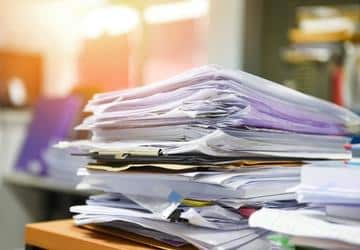 Acetaminophen is a medication that eases pain like headaches. A file purge is the process of removing excess files to prevent headaches. The former is reactive, while the latter is proactive. This tax season, we recommend a proactive file purge to prevent a tax-related headache.
Tax season requires being organized and disciplined. After a full year of generating and using documents—whether paper, digital, or both—your file systems can become overwhelmed and disorganized and counterproductive to running an efficient business. This issue is magnified during tax season as you try to get organized and file on time. Before the headache hits, consider booking a file purge.
Eliminate Paperwork Quickly
Files naturally accumulate during regular day-to-day administration. Employees who worked from home during the pandemic may have brought accumulated paperwork into the office. Whatever the source, there are bound to be many duplicate and no-longer-needed files laying around, cluttering the office and creating a data breach risk for your business.
Organizing a file purge will help eliminate duplicates and locate misfiled documents. By removing unnecessary files, you also gain space for new files. By reorganizing and combining similar files, your system will be more effective and efficient. Starting off tax season with organized files will help prevent headaches, and afterward, your staff will appreciate starting with a clean slate.
Legally-Compliant Shredding
Data privacy laws such as HIPAA, SOX, PCI-DSS, and CPRA dictate retention periods for different types of records. To remain legally compliant, your company must adhere to these laws.
A file purge will give you the opportunity to review retention periods, update final disposition dates for your files, and shred files that have reached the end of their retention period. A NAID AAA Certified shredding company will be familiar with state and federal retention periods, securely shred your documents, and give you a Certificate of Destruction upon completion. This document proves that you have complied with privacy law requirements for removing files from your system.
Consider a "Shred Everything" Policy
Rather than asking your employees to determine which documents to shred and which can be safely recycled without shredding, it is better to adopt a "shred everything" policy for day-to-day, active files being printed and used by employees. A scheduled shredding service is designed to keep your information secure throughout the year by placing locked shred collection bins throughout your facility so employees can simply drop documents and whole files inside when they are no longer needed. A reputable shredding company will recycle the paper they shred.
Pacific Shredding is NAID AAA Certified and provides a full range of shredding services to businesses and residents of California's Central Valley. For more information or to book your file purge, give us a call at 800-685-9034 or complete the form on this page. Our friendly shredding experts will answer all of your questions.