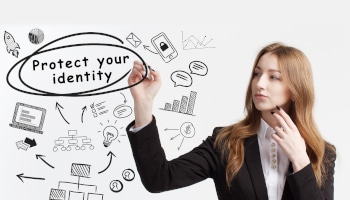 Identity theft is the most pervasive type of fraud. Typically, identity theft crimes spike during tax season, but someone can steal your information at any time, so you can never let your guard down. In this blog, we offer identity theft prevention tips for tax season and beyond.
1. Update Your Passwords
Protect your personal and business data by using a unique password for every application you use. Passwords should combine numbers, special characters, and upper- and lower-case letters. A password manager keeps track of your passwords and encrypts them. Many applications now offer two-factor authentication; be sure to use it for an extra layer of password protection.
2. Store Sensitive Document Offsite
If you are business owner with sensitive paper documents, you have a legal obligation to keep them secure. A records storage service is designed to safeguard personally identifiable information (PII) and protected health information (PHI). Access to a records center is limited to background-screened and authorized records management professionals. Only pre-authorized individuals in your organization can request records from your provider. Your records storage provider's advanced bar code tracking system offer a full audit trail for your records inventory.
3. Invest in a Data Protection Solution
Cybercriminals use ransomware to take control of computer files and hold data hostage until a ransom is paid. To prevent someone from stealing your information, the IRS recommends backing up data to a secure, external source which is not connected to your network. Partnering with a data protection provider that offers tape storage and E-Vaulting services helps safeguard your data from hackers.
4. Watch Your Accounts
One of the easiest ways to spot identity theft is to keep a close eye on your bank accounts and credit card statements. Review your statements for unauthorized charges and immediately report fraudulent activity to your financial institution.
5. Shred Unwanted Documents
Holding onto paper documents longer than necessary increases your identity theft exposure, but discarding unwanted files in a trash or recycling bin is also risky. Whether you need a shredding solution for your home or business, a professional shredding service makes sure your documents are shredded beyond recognition.
By implementing these tips, you can keep your information safe during tax season and beyond.
Pacific Shredding provides NAID AAA Certified shredding services for residents and businesses throughout Fresno, Stockton, Sacramento, Modesto, and Napa and Solano Counties.
For more information about our shredding and destruction services, please call us at 800-685-9034 or complete the form on this page.