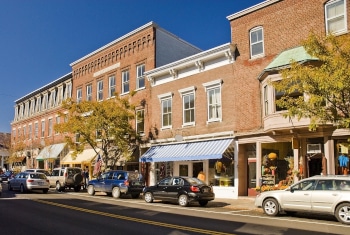 Because of the ever-changing small business culture and the effects of the COVID pandemic, about 42 percent of the US labor force is now working from home full time. Whether your small business is operated from a home or business location, it is equally susceptible to information security breaches.
But my business is too small to be a target for information thieves…right?
Being small doesn't make your business immune to information theft. If you have something worth taking, you're never too small to be targeted. Each employee with a home office is an entry point for a cyberattack. Small businesses are easier targets because they often drop their guard on properly protecting their business. But security measures aren't a luxury, they're a must.
So, how do I prevent a data breach?
A data breach can result in financial loss, downtime, and loss of your customers' trust. Many small businesses that experience a data breach go out of business due to catastrophic legal, financial, and reputation damage. Data theft prevention is just as vital as detection and response. Here are some simple ways you can protect your small business information:
Use the latest technology. This includes installing firewalls on all devices and using anti-malware and antivirus software. It's also just as important to keep these security measures up to date. Set up automatic updates for software and operating systems.
Use a Virtual Private Network (VPN). A Virtual Private Network (VPN) will hide your IP address and physical location while encrypting your internet traffic so that no one can tell who you are, where you are or what you're doing. They work on desktops, laptops, iPhone, iPad or android phones. Secure company data by providing a VPN to all remote employees when connecting to company servers and networks.
Avoid unfamiliar apps. Risky apps will increase the potential of a cyberattack on your network and devices. To increase your level of security, don't allow unfamiliar apps to be downloaded and remove any apps that aren't regularly being used. Every door you close makes your information more secure.
Secure networks. User permissions should be set to allow entry to only those who need access. Require password changes on a regular basis and avoid writing them down where they can be seen by others. Incorporating the use of passphrases increases security even more than a simple password.
Use only trusted USB drives. Don't plug an unknown USB drive into your device. Using new or familiar USB drives will help avoid unknowingly loading malware onto your device and network.
Know how to recognize phishing scams. Take a moment to consider the source before clicking on links in emails, messages, or on social media sites or providing any information to someone over the phone. This will give your brain time to evaluate whether you're about to click on something suspicious. Hovering over links will help identify the final URL. Watch for misspellings, irregularities, or links that don't match the sender or content. Many times, a moment of precaution will help you save your organization from the risks of a phishing scam.
Back up—often. This will secure you from deletion mistakes as well as external attacks such as ransomware attacks. Don't let your information be accidently erased or taken hostage. Backing up frequently to the cloud or an offsite data vault will ensure that your files stay as up-to-date as possible.
Institute physical security. Keep office doors locked. This is particularly true with a home office. Separate your office from your living space. Store laptops in locked drawers and keep them password-protected. File or discard all confidential data, whether paper or digital, at the end of all work sessions and lock your file cabinet or computer. Ensure that no-longer-needed media and hard copy documents are securely shredded. Stolen devices account for a great number of data breaches and IP theft.
Move paper files offsite. Moving your active and archival paper files to an offsite records center will help keep your information is secure. It will give your business an additional backup and the records retrieval and delivery service will give you access to your files from any location without the risk of carrying them with you.
Knowledge and implementation of data theft detection and protection measures will increase the security level of your business information and decrease potential losses, whether your employees work in a business facility or their homes.
Pacific Shredding and Pacific Records can help keep your small business information secure. We have multiple locations to serve you in Sacramento, Stockton, Fresno, Modesto, and Napa and Solano Counties.