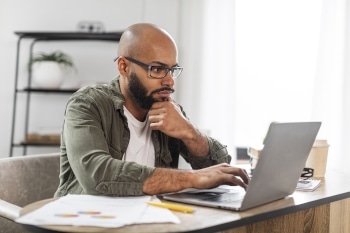 If you have an office or business at home, you might assume that:
DIY shredding is the most convenient and affordable means of document destruction
Privacy laws don't apply to you
Your business is less vulnerable to security breaches
Shredding companies aren't interested in small home offices
But nothing could be further from the truth. Here are the facts:
DIY shredding is not an effective way to shred your paper and may not be meeting privacy law requirements.
Whether you work at a business location or at home, you are just as responsible for compliance as any other business.
Contrary to popular belief, home businesses can be more attractive targets for data thieves than big businesses because smaller businesses are often unaware of—or relaxed about—security measures.
Shredding companies understand the challenges home businesses face, and they provide multiple options to help keep your information secure and your business compliant with data privacy laws.
Shredding Options
One-Time Shredding
Your business may be strongly dependent on digital files and less on paper, so an occasional shredding purge may be your best option for properly destroying your documents. It's possible that your home office files need to be purged once in awhile because you realize that your files are outdated. Removing them will also help free up some space. If you are in the middle of moving from a business location to a home office, purging unnecessary files before the move will streamline the process.
Whatever the reason, one-time purge shredding is perfect for lots of situations.
Drop-Off Shredding
You already have errands to run, so you make your rounds from the dry cleaners, to the PO box, to the coffee shop for a quick business meeting, so why not drop off the box or two of documents you need to have shredded?
You still want to ensure your documents are securely shredded, but strictly on your own watch. A drop-off shredding service, offered by a local, NAID AAA Certified shredding company, could be the ideal option for your home office.
Scheduled Shredding
There are several great things about setting up scheduled shredding service for your home office:
It's not one-size-fits-all. The frequency of shredding pickups are be determined by the amount of paper you need shredded and your schedule.
Your shredding company will drop off one or more shredding collection containers so you can safely discard documents without having to worry that they will be seen, lost, or stolen before they are picked up by a shredding company.
You don't have to worry about calling for pickup or having to drop off your discarded documents. Your shredding company should show up on schedule, every time, so you can focus on your business.
Onsite Mobile Shredding
With onsite mobile shredding, a truck will arrive at your home, collect your discarded documents, and shred them with an industrial shredder mounted inside the truck. You can even witness the shredding process via a security monitor mounted outside the truck so you know that your sensitive documents aren't going anywhere until they have been destroyed.
Ask for a Certificate of Destruction upon completion to prove your compliance with data privacy laws in case of an audit.
Pacific Shredding provides NAID AAA Certified shredding services to home offices in California's Central Valley. We adhere to the highest security standards in the shredding industry. Want more information? Ready to book your shredding service? Simply call us at 800-685-9034 or complete the form on this page and our friendly shredding experts will created a tailored shredding solution for you.