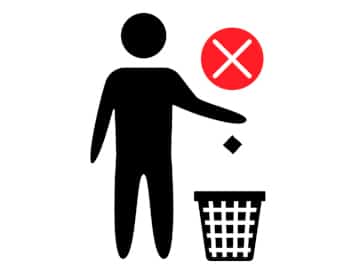 As convenient as it would be for hard drives to last forever and not need replacing, they do break down or become outdated or obsolete just like everything else.
Studies have shown that most hard drives start losing their reliability in their third year increasing their likelihood of failure. Here are our guidelines for securely and safely disposing of hard drives, USB drives, backup tapes, or any other digital storage media.
Don't hold on to old drives
Storing old hard drives puts your organization information at a risk of a data breach. The longer you wait, the greater your company's exposure to identity theft is.
Instead, clear out any drives that are no longer in use, whether they are damaged or outdated, even if they don't work anymore or have been erased or reformatted. Getting rid of them immediately is better than waiting.
Don't dispose of old drives until they've been destroyed
A NAID study indicated that personally identifiable information (PII) was found on 40% of used devices sold on the second-hand market. Your company is responsible for all stored information and could be liable for any breach, including those cause by improperly-disposed-of digital media.
Instead, have the drive completely destroyed by a reputable, experienced hard drive shredding service. Shredders can make the data on USB drives, hard drives, backup tapes, CDs, and DVDs completely unreadable and unrecoverable.
Privacy protection standards like the Health Information Portability and Accountability Act (HIPAA), Fair and Accurate Credit Transactions Act (FACTA), and the Gramm-Leach-Bliley Act (GLBA), require companies that collect and distribute PPI and Protected Health Information (PHI) to destroy it properly.
Don't toss old drives in the trash
Disposing old hard drives is harmful to the environment by contributing to landfill waste and poisoning the air, soil, and water with toxic materials. It also exposes your company to major data breaches.
Instead, use a media shredding service that will destroy them properly first. A NAID AAA certified shredding company will make sure your old drives and the information on them are destroyed according to the highest standards for the benefit of security and environment.
Pacific Shredding is NAID AAA Certified, and we comply with all data protection laws in the secure destruction of your hard drives and provide you with a Certificate of Destruction for your records. To have your hard drives handled properly, call us at 800-685-9034 or complete the form on this page.