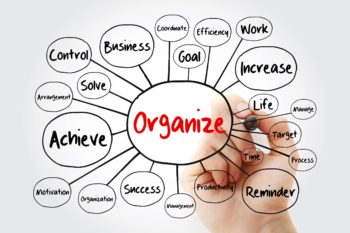 As summer winds down, many businesses start planning how to be more efficient during the fall and winter. Cleaning and organizing your office space is a great place to start. In this blog, we offer five tips for keeping your workspace clutter-free and productive:
1. Clean Your Desk
Starting a project is the hardest part. Begin by clearing out the clutter from your office workspace. Organize your desk drawers and file cabinets. Make sure every office supply has a designated storage space and label it. Dust and wipe your desktop with a clean cloth. Having a refreshed workspace will motivate you to tackle the rest of your office space with vigor.
2. Tidy Up Your Computer
A tidy digital workspace is just as important as a clean desk. Organize your computer's desktop icons and purge unwanted emails and files. Use a handheld air duster can to remove dust and debris from your keyboard. Unplug your computer monitor before wiping it down with a slightly damp cloth.
3. Review Your Document Retention Requirements
Knowing what records to keep and discard, and when to do so, helps you maintain legal and regulatory compliance. Review your document retention policy so you have a plan for storing and disposing of documents. If you're starting a policy from scratch, consult with a records management professional first.
4. Schedule a Paper Purge Day
Clearing out old and expired documents is essential for a clutter-free and productive workplace. A shredding and destruction provider can do all the heavy lifting and shredding for you. They deliver locked shredding bins to your office, allowing your employees to purge confidential documents in a matter of seconds. When the bins are full, the contents are collected for NAID AAA Certified destruction.
5. Implement a Scheduled Shredding Program
Maintaining an organized office is challenging. Scheduled shredding of outdated records prevents paper from piling up. Your employees deposit sensitive paperwork into secure collection containers provided by your shredding partner. Weekly, bi-weekly, or monthly the contents of the containers are professionally destroyed, and you're provided with a Certificate of Destruction.
For more office organization and paper shredding tips, please call us at 800-685-9034 or complete the form on this page.
Pacific Shredding provides shredding services for residents and businesses throughout Fresno, Stockton, Sacramento, Modesto, and Napa and Solano Counties.