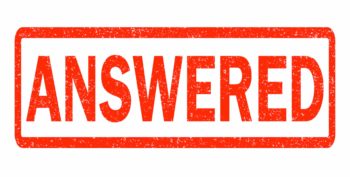 Every year, we're asked hundreds of information destruction questions. One thing is apparent: even in the Digital Age, organizations are concerned about their document disposal practices. So, in this blog, we're passing along answers to five of the most frequently-asked paper shredding questions.
Q: Is paper shredding required by law?
A: Many state and federal privacy laws, including the following, require any organization that collects personally identifiable information (PII) and protected health information (PHI) to disposed of it in a secure and verifiable manner:
>Failure to destroy paper records in compliance with these laws may result in stiff fines and penalties. Even if these laws don't apply to your business, secure shredding of expired and unwanted documents protects your business from identity theft and fraud.
Q: What is NAID AAA Certified Shredding?
A: The National Association of Information Destruction (NAID) is the non-profit, standards-setting authority for the shredding and destruction industry. A NAID AAA Certified paper shredding company must meet the highest industry standards for destruction of paper records. In order to achieve NAID AAA Certification, a shredding company must pass unannounced, ongoing audits that assess many aspects of their operation, including:
Employee screening processes
Insurance requirements
Written security policies and procedures
Certified proof of shredding processes
Using a NAID AAA Certified shredding provider ensures your documents are shredded in a secure environment.
Q: What is a Certificate of Destruction?
A: A Certificate of Destruction is a document provided to you after your documents are destroyed. It includes the time, date, and location of shredding, and can be used to prove your organization's compliance with state and federal privacy laws.
Q: What's the difference between onsite and offsite shredding?
When you invest in an offsite shredding service, your expired documents are securely transported in a mobile shredding vehicle to a shredding plant for destruction. With an onsite shredding service, your documents are destroyed at your business with a mobile shredding vehicle. The service you choose depends on your personal preference, compliance requirements, and budget.
Q: Is my shredded paper recycled?
A: With the right paper shredding provider, your shredded documents are recycled. At the end of your paper shredding project, your shredded documents are baled and shipped to an authorized paper recycling provider. The paper pulp is used to produce a wide variety of consumer and business products.
If you have a paper shredding question you want us to answer, please call us at 800-685-9034 or complete the form on this page. We can't wait to hear from you!
Pacific Records Management provides hard drive and media shredding services for businesses throughout Fresno, Stockton, Sacramento, Modesto, and Napa and Solano Counties.