Introducing Residential Seal 'N Shred Bags
Fill. Seal. Shred.
Fast and easy peace of mind, with not a shred left behind.
Introducing a secure, easy, and sustainable way to destroy sensitive paper documents. Whether you are a contract worker, a remote worker, or simply looking to tidy your home filing, our sealable shred bags are the easiest way to dispose of confidential documents quickly and securely. These bags are pre-paid for your convenience, easy-to-use, and come from a local, reputable company you can trust.
Fast & Easy
1. Purchase your Seal 'N Shred bags
Call your local Pacific Shredding office for pricing.
2. Fill & Seal
Place all your confidential documents in the bag and seal it when full.
3. Drop off for shredding!
Bring your bags to any of Pacific Shredding's convenient drop-off locations Monday-Friday from 8:30 am to 4:00 pm. You can even remain in your car – just call us at 866-460-0935 when you arrive!
Not a Shred Left Behind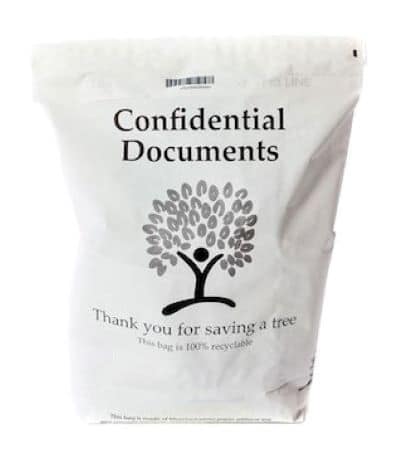 Pacific Shredding's sealable shred bags are guaranteed to leave no trace behind, in terms of security and the environment!
Secure
Pacific Shredding's bags come with security built right in—literally! Each bag contains a separate layer of security print, ensuring all your confidential information stays private until the time of shredding. From the moment your sensitive documents are placed into the bag, you can rest easy knowing your identity and information is protected. 
Eco-Friendly
Not only will these secure bags protect you, but they'll protect the environment, too! Made from biodegradable potato starch and cultivated older trees, these bags are 100% recyclable and shreddable. The bags are shredded right along with your documents, giving you peace of mind and all of us a healthier planet!
CALL 800-685-9034 today for your shred bag!
Request Your
Seal 'N Shred Bags