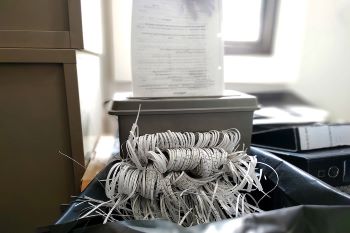 Computers, scanners, and sophisticated software programs have made document shredding much more challenging. Law enforcement and crooks alike have successfully reassembled shredded documents many times.
In 2009, federal prosecutors spent about two months reassembling documents shredded by the Stanford Financial Group, owned by R. Allen Stanford, who was charged with running a $7 billion Ponzi scheme. They used the reassembled documents as evidence to convict the fraudsters.
The FACTA Disposal Rule
In 2003, the Fair and Accurate Credit Transactions Act (FACTA) was added as an amendment to the Fair Credit Reporting Act to protect consumers from identity theft and fraud. In 2005, the FACTA Disposal Rule was added to FACTA. This rule requires disposal practices to be "reasonable and appropriate to prevent unauthorized access to, or use of, information in a consumer report." Secure shredding is widely considered to be the best way to do this.
Potential Fraud
An information thief has the knowledge, experience, technology, and time to collect and steal information. After all, the payoff can be huge. They also have complete disregard for you, your company, and your clients, and will do what is needed to benefit financially from any information they find. This is one of the reasons the FACTA Disposal Rule was enacted.
Non-Compliance
Failing to comply with the FACTA Disposal Rule can result in enormous financial penalties, and you could even be held civilly liable for damages related to identity theft as well as for statutory damages for each affected client. Class action lawsuits against your company could cost millions of dollars in attorney fees and damages, and on top of that, federal and state data protection laws could be leveraged to hit you with massive violation fines.
DIY Shredding vs. Professional Shredding
Shredding machines have advanced considerably over the years, but home and office shredders produce shreds that can still be reassembled, not least because the resulting shreds are bagged together and placed in dumpsters. For someone with patience and the right software, all the pieces are there to allow them to reassemble your documents and steal proprietary information, financial details, identities, and much more.
Add to all of this the numerous problems with office shredders:
They don't handle high volume, allowing only a few sheets at a time to be fed in, and they jam easily.
Staples, paperclips, binder clips, rubber bands, file folders, and sticky notes must be removed before shredding.
The shredding receptacle must be emptied often, creating an additional delay in an already-tedious process.
They can cause serious workplace injuries from hair, jewelry, and clothing being pulled into the shredding teeth, increasing your workers' compensation insurance premiums.
Employees notoriously dislike shredding documents, to the point that files will pile up next to the shredder or even get tossed directly into the recycling bin, creating a data breach "time bomb" for your company. Sooner or later, one of these unsecure practices will cause a breach.
Even if you somehow avoid all of these pitfalls, the shredded paper your produce often cannot be added to the recycling bin, as shredded paper cannot be mixed with other recyclables in the standard waste stream.
In contrast, a reputable, NAID AAA Certified shredding company uses industrial equipment and secure processes that keep your information secure and protects the environment, including:
Highly trained, background-screened staff.
A secure chain of custody for your information, from pickup to recycling.
Industrial-strength shredders that rip and tear your documents into pieces.
Mixing your shredded documents with those form numerous other sources, making reconstruction impossible.
Working with a paper recycler to ensure that 100% of your shredded paper is processed into new products, saving 17 trees for every ton of paper recycled.
Protect Yourself
One of the most effective and cost-efficient solutions to protecting your company and yourself and to comply with FACTA Disposal Rule requirements is to partner with a local, experienced, reputable, NAID AAA Certified shredding company.
Pacific Shredding is NAID AAA Certified for on-site mobile shredding as well as and off-site shredding of paper, hard drives, and other electronic media. In business since 1856, we proudly serve business and residential customers in Sacramento, Stockton, Modesto, Fresno, and Napa and Solano counties. Need a one-stop compliance solution? Simply give us a call at 800-685-9034 or complete the form on this page. We're standing by to assist you!