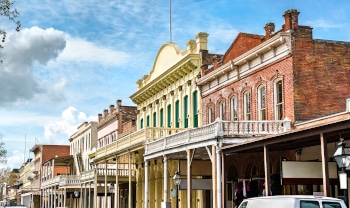 If you were seeking some Wild West vibes in Sacramento, I might point you in the direction of the Old Sacramento State Historic Park. It's a cluster of early Gold Rush commercial structures that will make you feel like you're on the set of Back to the Future III. There are so many great things that would make this a good choice for a Western historical visit, including buildings from the mid-1800s.
But if you are looking for a Sacramento shredding company with a long, local history as well as one eye on the future, what should you look for? Just by considering a local business, you have made your first smart decision because it supports your own community in so many ways. To narrow it down even further, you should consider some of these other questions.
Are they owned and managed locally, with deep ties to the area? Does the company have a history of providing jobs, supporting the local economy, and positive involvement in the community?
Do they understand and abide by compliance laws? How well-versed are they with FACTA, SOX, HIPAA, CFAA, and FERPA, to name just a few? If you're going to allow someone else to shred your documents, you will want to make sure they are handling sensitive documents and Personal Identifiable Information (PII) properly and disposing of it legally.
Are they NAID AAA Certified? This certification verifies that a shredding and destruction company's services comply with all known data protection laws. NAID is the standard-setting body in secure data destruction. Look for the certification badge on their website.
Are the staff background-checked? Does the company hire trustworthy staff who care about the security of your documents? Are background checks carried out? These are things that you should ask before signing on.
Is there a Chain of Custody in place? Document shredding requires a secure process and shredding companies need to follow a chain of custody from collection to destruction. Sensitive documents placed into a secure collection container should then be safely transferred to a shredding truck or facility.
Do they offer a Certificate of Destruction? When the shredding job is complete, a professional shredding company should supply this upon request. This will complete the chain of custody and act as proof that destruction laws were complied with.
Are there both on-site and off-site shredding services available? You may find one or the other more convenient for your business. Both have advantages. Asking the question will help you decide which shredding company serves your business best.
Do they recycle? For every ton of paper recycled you will have saved 17 trees and put paper back on store shelves instead of in landfills. Finding an environmentally-friendly shredding company says that you care about the future.
As a NAID AAA Certified shredding company with a 160-year local history, Pacific Shredding provides secure shredding and destruction services. Give us a call at 800-685-9035 or complete the form on this page and we'll prove that we are your best choice for shredding in Sacramento.